Must Love Dogs
Dogs. You gotta love 'em!

Above: Milo "helps" me paint ;)
They are delighted when you're happy, obliging when you're at rest, and they are at you're side faithfully when you are sad.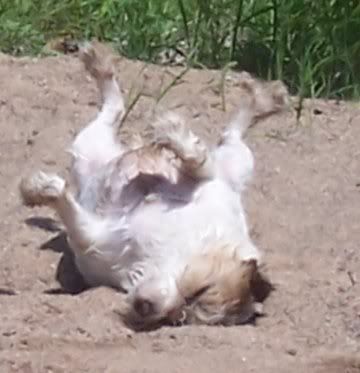 Above, Decker takes a roll in the sand after a good swim in the lake.
Above: Milo demonstrates the "Crazy Jack Russell Look" for all those out there who think JRTs' reputation isn't earned ;)
Above: Kairo and Emily look pretty in the snow

Above: Bugbee uses Egypt as a pillow. Note: Egypt had good GSD ears before the coyote attack. In this picture, she is still recovering, Poor baby.

Milo and the Reindeer



Above: Shep and Milo, two old friends who've known each other for THIRTEEN YEARS (can you believe it??), play in the snow

For information on English Shepherds (also known affectionately as "ESD's"), www.FarOutLiving.com has a fantastic article - and an AWESOME ESD!
http://www.faroutliving.com/?id=237