Meet Milo.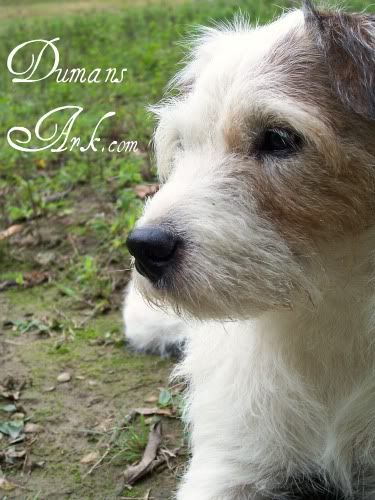 I'd love to say that his easy-going nature is the product of many years of research, patience, and training. But it's not true. Sure, he has 13 years of training under his collar - the boy has done everything from farm work to agility competitions. But his calm, collected persona, his uuber awesomeness, is all him. He's just a cool dog.
He's modeled for Drs. Foster and Smith's catalog. He's been in advertisements for a cinema. He's been in the Newspaper and on camera and through all of it, he is just as laid back and very James Bond with his charm as can be. What a dog!
***Update; Milo is gone. Almost 14 years of laughter, learning, and loving the greatest dog. We miss you buddy.
~~~
Meet Heidi. She is a sweet girl, and a real lady.
Heidi is from Brenda Buckles in Wisconsin. Brenda puts on one of the very best Terrier Trials ever: the Arctic Blast Trial! Heidi had so much fun there!
Heidi is the daughter of the great Tibbins and Foxy.
~~~
~~~

~~~
~~~
*****Update: Sadly, our Little Miss Rose has passed away.
Sweet girl, you are missed.

My friend once said sadly that it was "the passing of an age" to see their oldest dogs gone. These were our first Terriers, and with their offspring having been neutered/spayed, it is indeed the passing of an age to see these wonderful dogs go. Sad to realize that these are the last of their line.
---
This is Decker.
~~~
Decker is a solid powerhouse of a terrier; he runs, he plays, he annihilates stuffed toys in seconds. Yet he is wonderful with little babies - both human and animal. He can hold his own with big or small dogs - and he teaches them a new move or two. He has also taught just about every dog he meets the joys of Squirrel Wars. It's a fight he has waged for years; he chases these fat, corn fed creatures up their tree and wildly follows from the ground as they hop from branch to branch. Our trees are planted close enough together that this game can take Decker all around the yard, several times. He loves it!
Decker and Zepol are full brothers, and are 10 years old this year.
*****Update: Awww our poor Decker. He could fight cancer no more.
Be in Peace now and forever little friend
~~~
Zepol.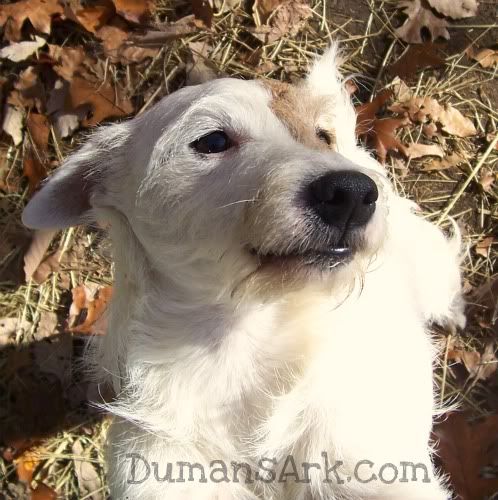 Zepol's roguish grin

Zepol is fiercely loyal. He has appointed himself the job of Patrolman and he takes his job VERY seriously. His favorite pastime otherwise is sleeping. Not that he is lazy or spends most of the day under the covers - no, he is always on the move. But if you pick up a blanket, Zepol is your buddy - he will take a snooze just about any time of the day - as long as he's done his rounds outside, of course.
Zepol also loves cookies. We have to watch him carefully as he is a master at begging and people succumb to his charms quickly. ;)
***It is with a crumbling heart that I share the passing of Zepol. Dear, sweet, funny, Zepol. Such sad times.
~~~
Escaped Lab Experiment
Case File: RUGBY
Rugby is a special case. She appeared to be mostly terrier in origin, however, upon further examination, her many extra qualities became rabidly apparent.
Rugby is a genetic quilt.
When she grew out of the clumsy puppy stage, and her legs coordinated, we nicknamed her "the Ninja". This girl can JUMP!
She has excellent hearing, and her ears 3/4-prick so she resembles a floppy-eared bat.
She steals like a Jackal.
She plays Lookout like a Meerkat.
She has an Alligator grip.
She has a Mongoose like aversion to reptiles.
She has the ability to chirp like a bird.
She has the energy of a thousand first graders. On a sugar-high.
She can glide like a Flying Squirrel.
She has developed spots that would perhaps act as camouflage in her natural environment, if she had a natural environment.
And she LOVES. TO. PLAY. BALL!
Rugby really is a sweet girl. We can't believe five years with her have already flown by!